The cryptocurrency market appears to be set for another decline after having a good week's start. Coin prices are trading at substantially lower levels this morning compared to the beginning of the week. The market decline may cause investors to be cautious, but non-fungible tokens (NFTs) and associated utility tokens may benefit from it.
In this post, we'll look at some of the top NFT crypto tokens now available on the market as well as potential triggers for price increases in the future.
1. Lucky Block (LBLOCK)
First of the best NFT crypto tokens is LBLOCK. The digital asset, which powers the Lucky Block gaming ecosystem, is one of the most exciting coins in the market now, attracting massive investor attention.
Lucky Block is an innovative gaming system that was built to house different games on its platform. Launched on the Binance Smart Chain, the platform offers players access to several games using its LBLOCK token. LBLOCK acts as a ticket to the gaming system. Players can buy Lucky Block to access its online games, unlike traditional platforms that use online tickets.
Today, LBLOCK trades at $0.00092. The crypto asset is down by 8% in the past week.
LBLOCK ranks high on this list because of the Lucky Block ecosystem's Platinum Rollers Club NFTs. The NFT collection was launched in February as part of Lucky Block's marketing strategy, with 10,000 collection pieces selling for $1,500 per piece.
Benefits of these NFTs include 10% royalties on secondary sales and access to giveaways and rewards. Since Lucky Block organised an NFT giveaway in June, we expect more similar initiatives to come soon.
2. Axie Infinity (AXS)
Next on our list of the best NFT crypto tokens is AXS. The crypto asset is the native token for Axie Infinity – one of the market's most popular blockchain gaming platforms.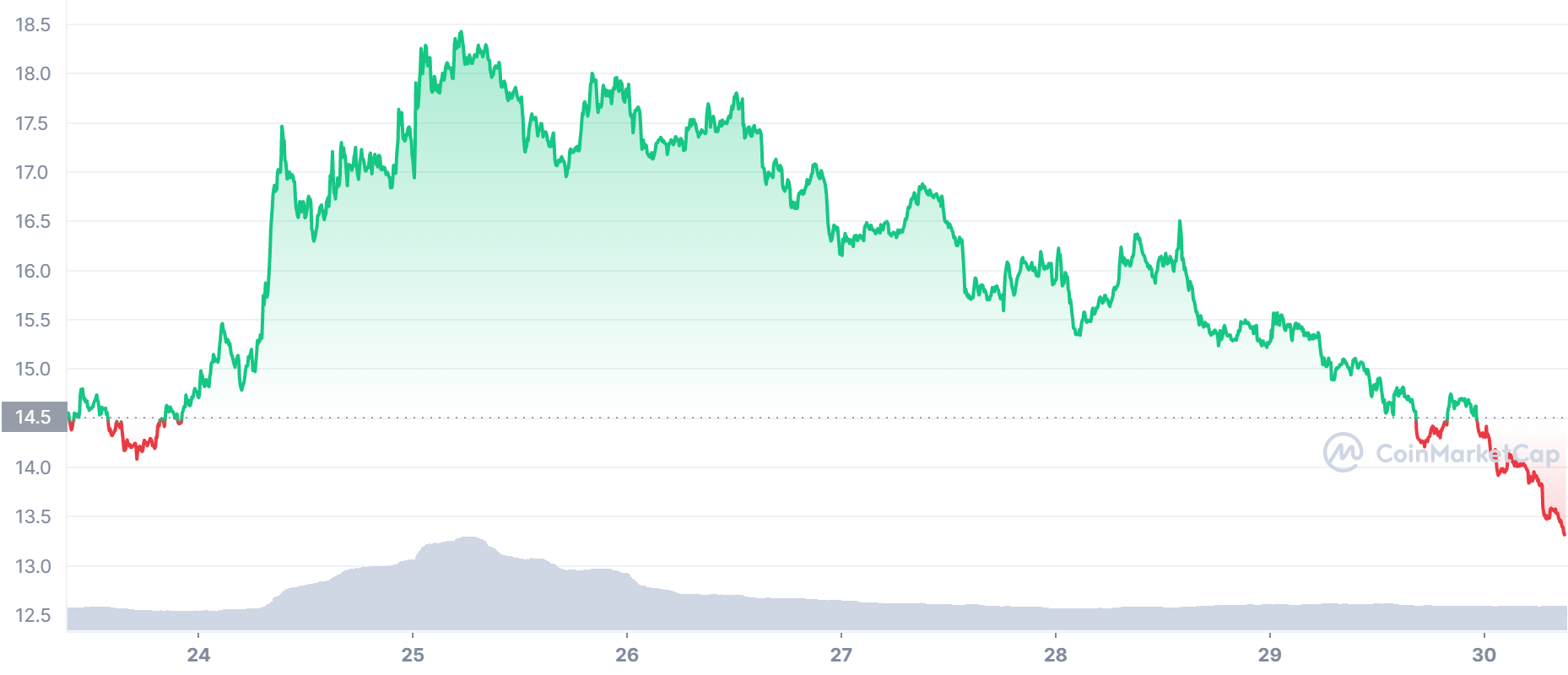 Axie Infinity became especially popular in 2021. The game runs the play-to-earn model, allowing players to breed digital pets known as Axies. These Axies are NFTs, and investors can battle theirs with other players' Axies to win them – and earn AXS.
Currently, AXS trades at $13.24. The crypto asset is down by 8.6% in the past week.
Earlier this year, Axie Infinity suffered a massive hack on its Ronin bridge that cost the ecosystem $612 million. Despite the setback, the game's developers recently announced a plan to relaunch the Ronin bridge – as well as reimburse victims of the hack earlier this year. This shows that Axie Infinity is still very much alive.
Bridge being refilled on the 28th 🤝

Now it's time for @Ronin_Network and @SkyMavisHQ to expand its games portfolio

If you are a game developer who wants to build with the most experienced team in the web3 gaming space reach out to [email protected]$ron $axs https://t.co/DPkg8DUeUW

— Psycheout – Aleksander | Axie Infinity (@Psycheout86) June 24, 2022
As one of the top gaming platforms, investors can buy Axie Infinity Shards to enjoy gains in the future.
3. Solana (SOL)
Solana is one of the most prominent "Ethereum killers", rising as a viable alternative to the leading Ethereum blockchain while it remains beset by scalability issues.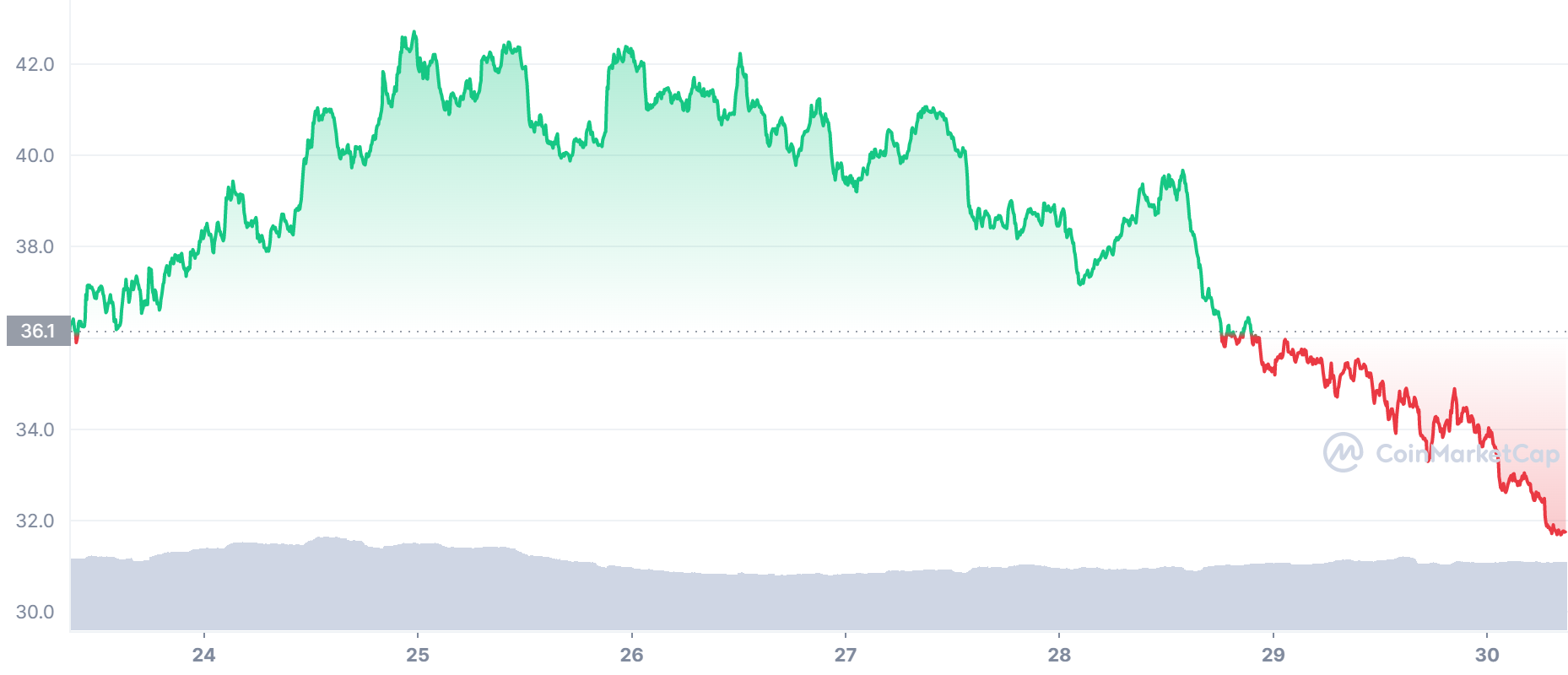 Over time, Solana's SOL token has also become a market leader. The digital asset currently trades at $31.65 – a drop of 12.35% in the past week, making it available at a discount.
We believe that investors can buy Solana now. Besides the fact that the asset is one of the most valuable in the market, Solana Labs also recently announced the Solana Mobile Stack (SMS) – a software ecosystem that allows developers to build Android apps on the Solana blockchain and mint NFTs from any chain.
Access to the SMS will be available on the Solana Mega – an upcoming Android smartphone from Solana Labs.
4. Immutable X (IMX)
Next, we have Immutable X – an NFT layer-two scaling solution built on the Ethereum blockchain. Immutable X helps individuals and companies to easily mint and trade NFTs on Ethereum. Users of the service avoid Ethereum's scalability problems, with a 90,000 per second transaction throughout, zero gas fees, and instant transaction finalisation.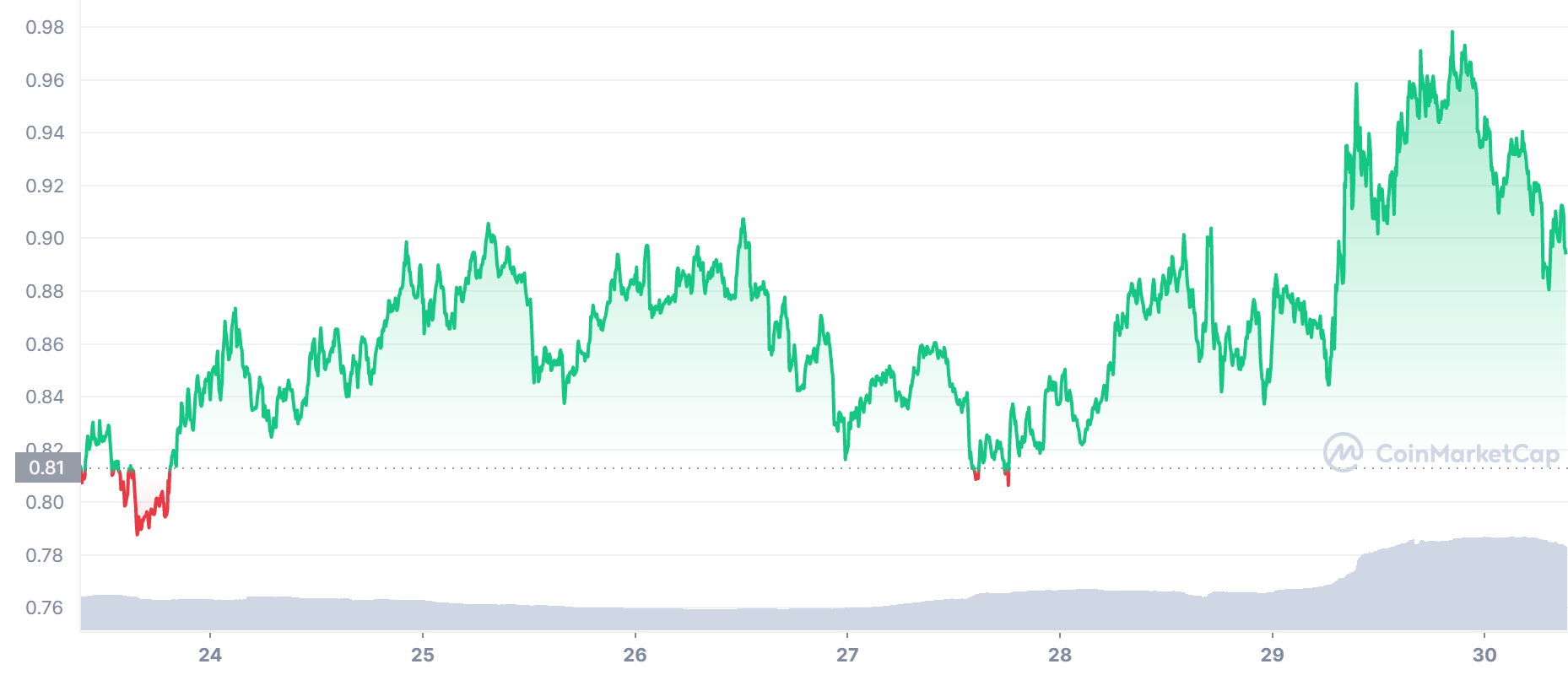 IMX, the platform's native token, currently trades at $0.89. The crypto asset is one of the few coins to post gains in the past week, up by 9.8%.
We believe that investors can buy Immutable X because of the platform's recent $500 million developer fund. The fund has been earmarked to help boost the platform's adoption, with projects building on Immutable X getting grants in fiat and IM. Bolstered adoption is sure to help IMX's prospects going forward.
5. The Sandbox (SAND)
To conclude our list of best NFT crypto tokens is SAND. The digital asset powers The Sandbox – an entertainment platform that seamlessly blends NFTs, the metaverse, and gaming.
Although The Sandbox began as a gaming platform, it has expanded to cover multiple live experiences in the metaverse. It is one of the world's most popular virtual platforms. The Sandbox's prominence has been bolstered thanks to multiple partnerships with some of the world's biggest brands.
SAND, the platform's native token, currently trades at $0.96. The digital asset is down by 4% in the past week, providing investors with an opportunity to buy Sandbox at a bargain price.
The platform recently partnered with TIME Magazine to build a variant of Time Square in the metaverse – a harbinger for even more partnerships that bring other major brands into Web3. With the market expected to flip bullish and excitement for the metaverse still in high gear, The Sandbox is expected to be a major player in this field for years to come.
Read More:
Lucky Block – Our Recommended Crypto of 2022
New Crypto Games Platform
Featured in Forbes, Nasdaq.com, Yahoo Finance
LBLOCK Token Up 1000%+ From Presale
Listed on Pancakeswap, LBank
Free Tickets to Jackpot Prize Draws for Holders
Passive Income Rewards – Play to Earn Utility
10,000 NFTs Minted in 2022 – Now on NFTLaunchpad.com
$1 Million NFT Jackpot in May 2022
Worldwide Decentralized Competitions
Cryptoassets are a highly volatile unregulated investment product. No UK or EU investor protection.