With Michael Duek out in third place, the 2022 World Series of Poker Main Event, which attracted 8,663 entries, has been reduced to just two players — Espen Jorstad and Adrian Attenborough — and one of them will walk away from Bally's in Las Vegas Saturday night with $10 million.
Don't feel too bad for the player who doesn't take home the most coveted piece of jewelry in the game. He'll still receive a payout of $6 million to help lessen the disappointment of finishing just one spot away from replacing Koray Aldemir as the reigning world champion.
Speaking of Aldemir, whose championship reign will conclude in a matter of moments, the German poker star, as is customary, announced "shuffle up and deal" to kickstart the festivities on Day 1a and then proceeded to run deep yet again in the Main Event. He was inevitably eliminated in 75th place for $101,700, one of the best follow-up performances ever a Main Event winner.
Follow Heads Up Play Live on PokerNews
Checking Back the Flop Dooms Duek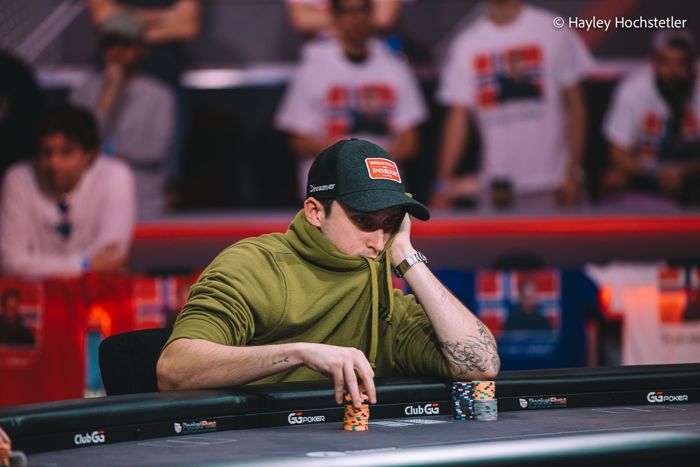 On hand 196 of the final table, with the blinds at 1,500,000/3,000,000, Attenborough raised on the button with
to 6,000,000 before calling a three-bet from Duek in the small blind to 23,000,000 with
. The flop came out
and both players opted to check. When the
appeared on the turn, both players hit a significant piece and Duek bet 17,000,000 with top pair. Attenborough, whose straight left his opponent drawing dead, made the call.
The river was the
, no use for either player, but it didn't prevent Duek from again firing out, this time for 52,000,000. He only had 5,000,000 behind and then sigh-called after Attenborough put him all in. That was the end of Duek's impressive run, which culminated in a third place finish for $4,000,000.
"Nothing short of amazing, it's been great, it's been a very fun run. Long, tiring, but fun, just the best experience anyone could ever have," Duek, the final American standing in the 2022 WSOP Main Event, told PokerNews of the whole Main Event deep run experience.
The quick exit, about 20 minutes into the session, was disappointing for Duek as he'd taken his stack to over 100,000,000 quickly, up from his starting stack of 72,000,000. Grinding his way back into contention was all for naught.
With that, the 2022 WSOP Main Event has moved on to heads up play between Norway's Jorstad, who entered the day with a sizable chip lead, and Australia's Attenborough, who memorably made two incredible plays on Day 7.
For Jorstad, he's seeking his second bracelet of the summer, and first solo bracelet. As a part of Team Leonard, he won the tag team event along with fellow online crusher Patrick Leonard. Attenborough, on the other hand, is chasing his first piece of WSOP hardware.
At the start of heads up play, it appears to be anyone's ballgame with Jorstad holding a small lead at 284,500,000 against 235,500,000. Both players are accomplished pros both live and online.