As a medical doctor, Josh Guindon doesn't get many opportunities to spend a week playing poker in Las Vegas. But after qualifying into the World Poker Tour (WPT) Venetian Main Event, that's exactly what Guindon did this week.
Guindon, a Massachusetts resident who works as an emergency medicine specialist at Salem Hospital, qualified into the $5,000 buy-in event through ClubWPT, giving the poker recreational an opportunity to battle in his first-ever live tournament against household names.
"It's been interesting," Guindon told PokerNews during a break on Day 2 on July 15. "It's been a neat opportunity."
Out of the Office
In order to win a seat into the $4 million guaranteed event in Las Vegas, Guindon had to get through a field of 1,320 runners in a ClubWPT event that he hadn't even planned on playing.
"I had a shift I was supposed to work and I switched shifts with a colleague, so I just happened to have the night off," he said. "I sat down for a casual evening, I was having scotch with my wife's dad and grandpa, and (was) running pretty well."
Before Guindon knew it, he was down to the final table and managed to double up with pocket kings to be in contention to win it all.
"I got down to heads-up and the second hand we got all in and held and won," said Guindon. "I beat 1,320 people and it's pretty cool; a cool opportunity."
Playing in the Big Leagues
While Guindon has played cash games for years, he is a newcomer to live tournaments and admitted he "didn't have a lot of mid or high-stakes tournament experience" heading into the prestigious championship event.
"In college, there was a casino about an hour away (that) I used to go to about once a week or so and got into the cash games pretty heavy," he said. "But I don't have a lot of experience playing tournament poker, just playing with friends and whatnot."
That's a far step away from the competition Guindon faced in the WPT Venetian Main Event, which drew no shortage of WPT champions, World Series of Poker bracelet winners and otherwise accomplished poker players.
"There's been a lot of pros," Guindon said. "Yeah, there have been a lot of them."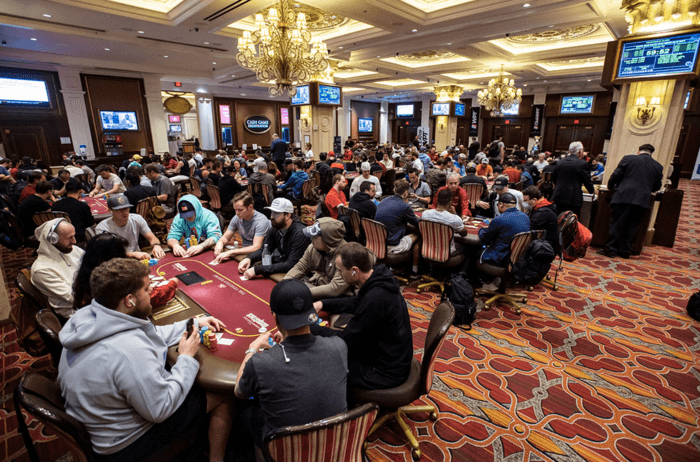 Best Free to Play Slots
Guindon had good encounters with many of the pros he played with in the event, including fellow Massachusetts resident Ethan "Rampage Poker" Yau and all-time WPT title holder Darren Elias, who he got a chance to chat with on the first break of Day 1c.
In a less enjoyable encounter at his first table, Guindon was paired up against Alex Keating two seats to his right. Guindon said the thick-bearded California pro "was chirping in my ear" and perhaps trying to get inside of the qualifier's head.
"I just put my headphones on and play my game," said Guindon, who came to Vegas well-prepared with a pair of black noise-canceling Bose headphones.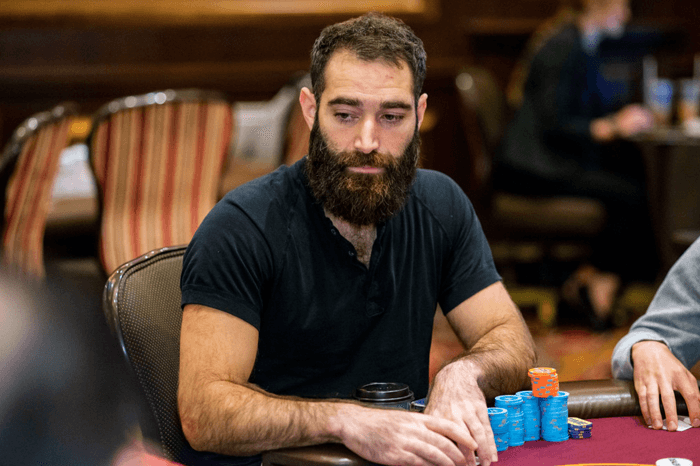 Finding a Deep Run
Despite lacking live tournament experience, the medical doctor had no trouble running deep in the championship WPT event.
When PokerNews talked to Guindon toward the end of Day 2, he had a healthy stack with only 68 players remaining.
"I had a key double up last night with aces to make it through (Day 1c)," he said. "I had another key double up here (on Day 2). I got it all in with queens, I flopped a set against ace-king all in preflop."
But it hasn't just been a run of good cards. Guindon has also made the big plays necessary for a deep run in any tournament.
"I had a big bluff with king-ten," he said. "So I've been running well, picking some good spots, patience, timed aggression. It's pretty good for my first tournament, I think."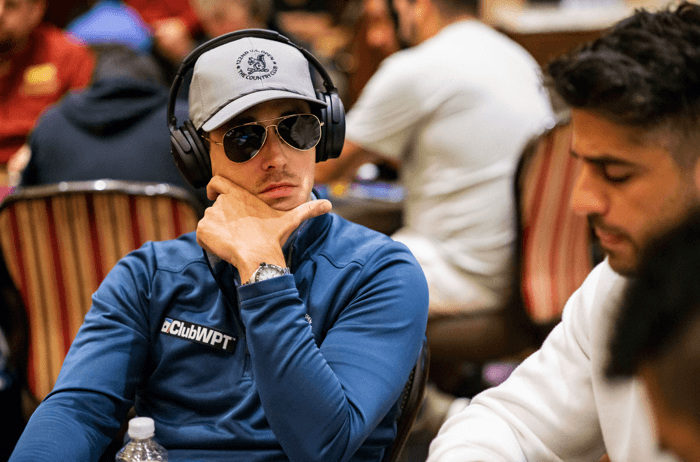 Guindon's wife was rooting for him back home on the East Coast and he said he planned to bring her to Vegas should he make the final table.
"We talked about it even before I came out," he said. "If I final table it, then I'm flying her out, for sure. So that's the plan!"
A final table wasn't in the cards and Guindon wound up being eliminated in 48th place out of the 1,178 entrants toward the end of Day 2 to get his first-ever live tournament cash worth $19,700, an impressive run from a part-time player who qualified into the championship event by winning a club tournament on his phone.
Follow the action in the WPT Venetian Main Event with updates from the WPT reporting team.
Photos courtesy Joe Giron and WPT