For most, the saying, "I could win that poker tournament in my sleep," is laughable at best. But not for Eric Goldstein, who fell asleep Wednesday night, and then woke up to discover he'd won an $80 satellite into the 2022 WSOP Main Event on WSOP.com.
Goldstein told PokerNews he forgot he was registered for the satellite, which only awarded one seat into poker's most prestigious annual tournament, a $10,000 buy-in event.
When a player is registered for an online tournament but doesn't show up to play, their hands are automatically mucked and, when in the blinds, the chips are removed from their stack. If that player is forced all in by the size of the blinds, their cards are turned over at showdown, and if the absent player's hand is best, they win the hand. That is exactly how Goldstein continued to stay alive despite not even being present to play his forced all in pots.
Goldstein lives in Summerlin, an area of Las Vegas west of the Strip, and works as a compliance specialist in the marijuana industry.
"I got home from a long day of work and was watching the (Poker Players Championship) and a fiend messaged me," Goldstein said. "So I registered with like 30 minutes until it started and had to go to work at 6 a.m., so I passed out early and woke up to a lot of messages that I had won it."
How'd He Do It?
Goldstein, who plays under the screen name "GoldsteinE," was one of 126 players who entered the $80 buy-in satellite. On Thursday, he logged onto the WSOP.com client to look through some of the hand histories to find out exactly how he won.
On the final hand, with a 61,000 to 3,000 lead over his heads-up opponent, "Basil_Hayden," he had
against
. The board ran out
, giving the biggest stack a winning flush to finish off the tournament.
At that point, the blinds were up to 1,000,000/2,000,000, so there were no decisions left to be made. During heads-up play, he began with just 1,000 chips and his opponent had 63 times that amount. From the hand history screenshot Goldstein provided PokerNews, he won nine straight automatic all in hands heads-up, starting with pocket queens. The full miraculous heads-up run was as follows: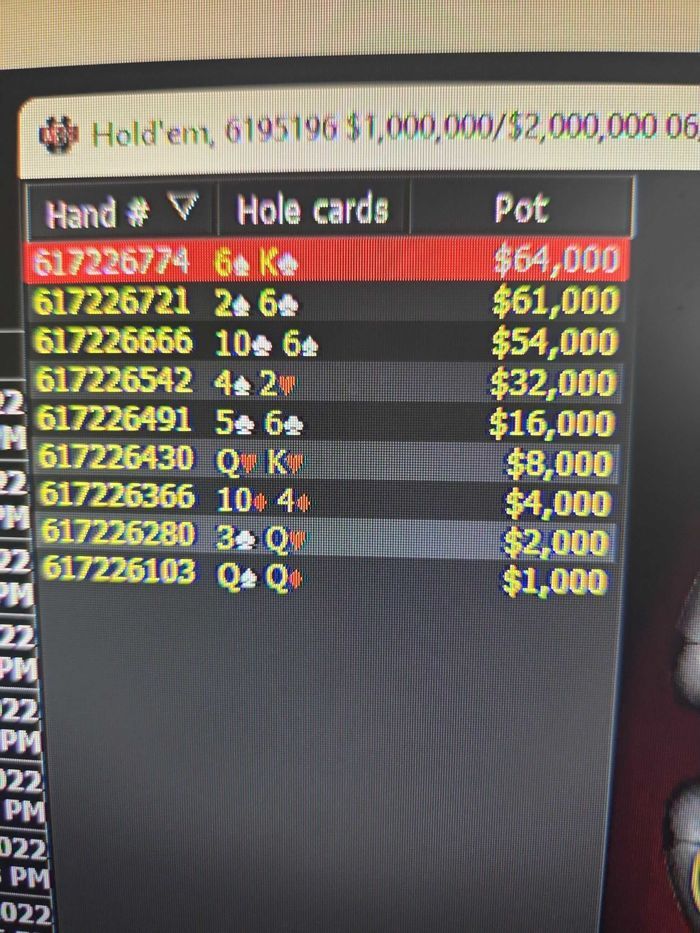 The Next Moneymaker?
In 2003, Chris Moneymaker became the first to turn an online poker satellite win into a WSOP Main Event title, and it helped spark a massive poker boom. That satellite, which took place on PokerStars back when it was available in the US, cost $86 to enter, not far off from Goldstein's WSOP.com entry fee.
If Goldstein were to go on to win next month's world championship event, who knows, maybe poker will have its next Moneymaker. The intriguing storyline is already there if he comes out victorious.
Goldstein has just under $16,000 in live tournament cashes, according to Hendon Mob, barely more than the buy in for the Main Event, which begins July 3 at Bally's and Paris Las Vegas.
2022 World Series of Poker Hub
Bookmark this page! All you need to know about the 2022 WSOP is here.