On Wednesday's Hustler Casino Live stream, Wesley Fei may have etched his name on the list of poker's bad boys when he laughed in the face of Chris "Luda Chris" Chen, whose bluff attempt with seven-deuce in a large pot failed.
Both players are regulars on the show and have competed against each other numerous times. They've always been friendly with each other and Fei told PokerNews there is no animosity or bad blood between them, but the way he celebrated winning the following hand will likely be criticized by some poker players.
Bluffing with the Seven-Deuce
In the now infamous hand, which took place during a $25/$50/$100 cash game, the HCL regulars engaged in a preflop raising battle with Luda Chris five-betting to $5,000 with
in the small blind and "Wes Side" Wesley calling with
in the big blind.
The flop came out
and the small blind led for $7,000 and the big blind called. When the
appeared on the turn, Chen was drawing dead but still barreled again, this time for $20,000. Fei wasn't going anywhere with top pair and made the call to see the
on the river. Both players checked and then turned over their cards.
When Fei saw his opponent's seven-deuce, he laughed at him and said, "so stupid" before then screaming "punishment! punishment! punishment!"
Wesley plays poker every day like it's Max Pain Monday @HCLPokerShow @CryptoApprenti1 @MaxPainMonday https://t.co/rhrj0rFjun
To Luda Chris's credit, he sat silently and smiled as Fei scooped the $64,150 pot, a fairly large pickup in that game. Fei had just $26,000 behind heading into the river and Chen opted to give up on his bluff. He made a wise decision not the fire another barrel because Fei said he would have "snap-called" a jam.
"He's a funny guy," Fei told PokerNews of the player he taunted on Hustler Casino Live. "I don't know him outside of poker but I like him. Just some jokes."
When the five-hour stream concluded, Fei was the biggest winner in the game, up $54,000, while Luda Chris was the biggest loser, down $91,000.
Not the First Time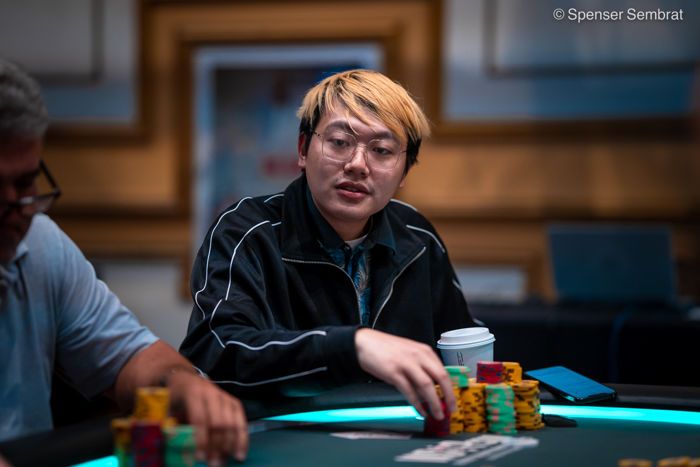 Fei began playing poker just seven months ago, and he explained his wild story on how he got into poker in an interview with PokerNews at the 2022 World Series of Poker. Over the past six months, he's become one of the most popular players on HCL and one of the more entertaining characters in poker.
Wednesday's incident with Luda Chris wasn't the first time Fei had engaged in a bit of taunting with a Hustler Casino Live fan favorite. A few months ago, he called an over-bet with set-over-set on the river to win a $193,000 pot against Garrett Adelstein, one of the top high-stakes cash game players. Following the hand, Fei needled Adelstein by telling him, "it's an overplay."
Although Fei, who made millions investing in cryptocurrency, is still new to the game, he's already had some success in cash games and even ran deep in the 2022 WSOP Main Event, finishing in 704th place for $21,000, which isn't too shabby for the first tournament he'd ever played.
The wealthy investor is already showing some similarities to Tony G, a controversial pro during the poker boom era who was often referred to as a loudmouth who taunted his opponents (see: Perry, Ralph). Much like Tony G, Fei is starting to become a love-him-or-hate-him player. But one thing is tough to argue, and that is he is one of the most entertaining players to watch.