TRON surges by 23% as people have started to believe that over-collateralization can safeguard against USDD depeg. Do people still have faith in an algorithmic stablecoin? Check out this story.
TRON (Ticker Symbol TRX) has begun to show signs of recovery. The price of the token has risen by 23% from its mid-June lows. While the current TRX price has been down by 3.14% in the last 24 hours, the token has been trading in green more than the red zones since 21st June 2022.
The reason behind this recovering sentiment is the news of the upcoming USDD depegging fix that seeks to finally renew the interest in Stablecoins that has been down since Terra's fall.
Currently, USDD stays depegged, holding the value of $0.98. However, it has started to stably shorten the distance, accumulating at values closer to $1 value every day, creating a step-like pattern.
The Fall of Terra and the Trust in Algorithmic Stablecoins
The Terra crash made crypto investors skeptical about the prospects of Stablecoins – especially those that aren't backed by fiat currencies. Many crypto watchers have said these "algorithmic" Stablecoins seem to advertise that they create value "out of nowhere."
On the Official Tron DAO reserve website, the max USDD supply is $2,000,000,000. Out of this $723,312,764 is circulating. The total collateral comprises of 10,874,566,168 TRX, 14,040 Bitcoin, 140,013,886 BTC and 1,030,000,000 USDC, making the total collateralized ration to 319.27%.
Needless to say, Tron DAO claims that USDD is overcollateralized.
It means that even if the market suffers losses, the reserves have more than enough to compensate for them.
The official website also provides "risk-free yield subsidies" for mainstream Stablecoins on the TRON network. Users can stake their USDT, USDT, USDC, TUSD, or USDJ to earn APY from 10.19% to 33.38%.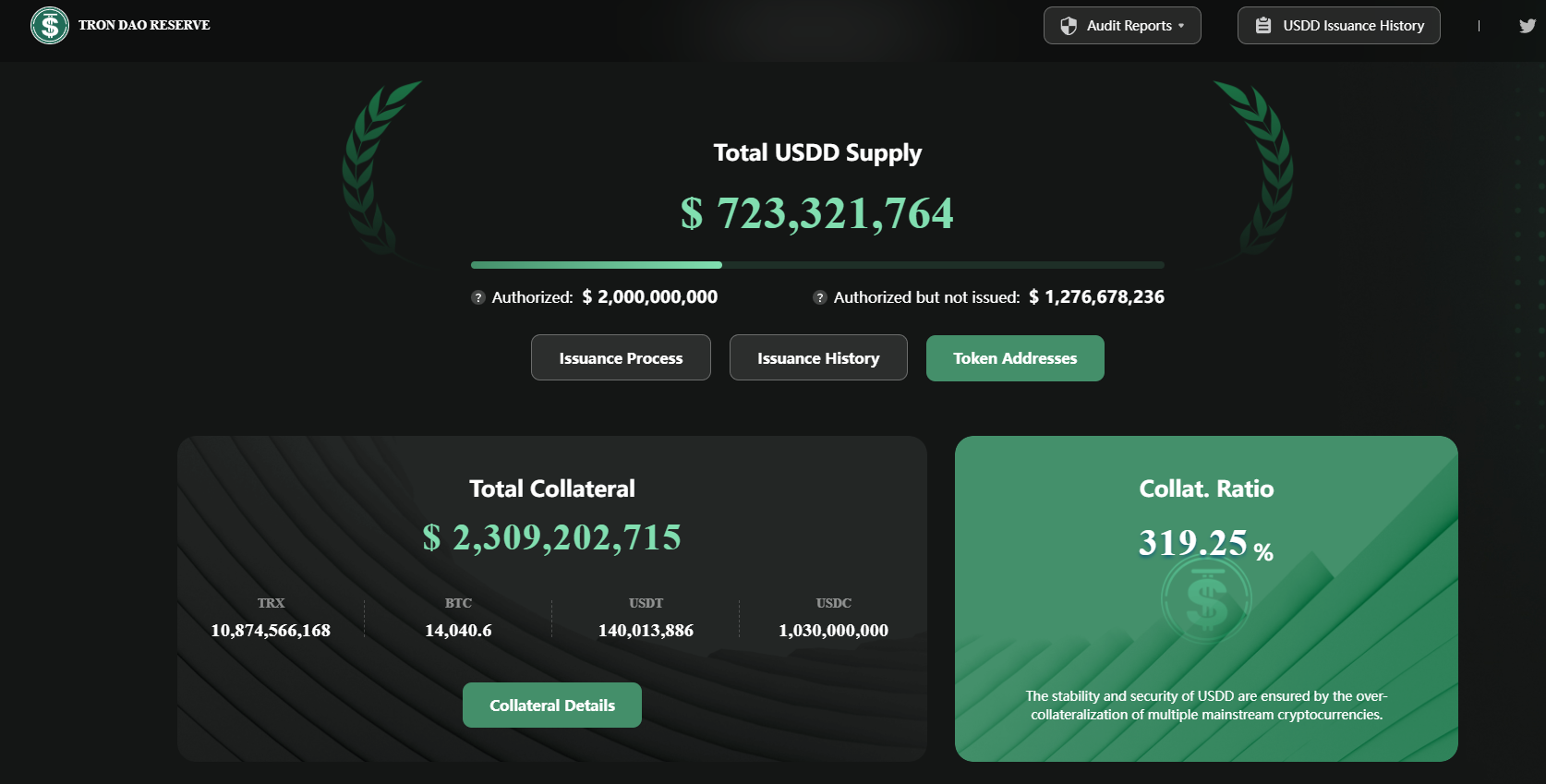 However, despite that, the token hasn't been well-received by investors. After the fall of TERRA, the aggressive sell-off by BTC whales further started to damage the crypto ecosystem. The situation has become so bad that hedge funds have come together to short USDT – Tether – another algorithmic Stablecoin and once the third biggest Stablecoin by market capitalization.
What is USDD?
USDD is a Stablecoin issued by the TRON DAO reserve. It was officially introduced on 21st April 2022 by Justin Sun, founder of the Tron network.

Taking cues from the collapse of Terra and wanting to add some stability to USDD, Justin Sun announced the creation of the Tron DAO reserve. Its responsibility is to keep USDD pegged through over-collateralization.
Functionally, it is quite similar to LUNA and UST. Just like Terra's Stablecoin peg depended upon LUNA's burn mechanism, USDD also relies on TRX's burn mechanism. Additionally, to prevent the hyperinflationary cycle that pushed UST into the death spiral, Tron has taken measures to reduce the supply of USDD by allowing investors to exchange 1 TRX for 1 USDD.
However, Tron was a victim of wrong timing. Tron reaffirmed its belief in USDD at the time when the market was reeling from the Terra collapse. As a result, it didn't receive much support from the community.
Also, the market doesn't believe that the current massive collateralization is enough to maintain the peg of USDD. For instance, much like Luna's supply inflated to maintain its peg to UST, Tron's supply might increase rapidly to maintain its supply of the peg. It will create a higher supply of TRX than the demand – decreasing the TRX price to nothing.
The lack of faith has caused USDD to depeg.
For now, however, the green candles suggest that USDD may have passed the test of using over-collateralization as a way to offset hyperinflation and crash.
Technical Analysis of USDD since Mid-June 2022
TRON price action entered a major green zone. Even though the down-wick was far lower that day, the token was able to build a bullish bottom because since then, the trading has seen higher lows. The TRX price hasn't gone below $0.59 since then.
Furthermore, TRX has been trading in the green almost twice as much as in the red.
It is a positive sign for those looking at TRX as a short-term investment.
Another point to note is that the current crypto winter hasn't hit TRX price as profoundly as it has other altcoins. In fact, the current TRX price is $0.65, which is merely 11% less than the price it held at the start of 2022.
The current "not so" bearish sentiment behind TRON also results from Tron DAO's staking facilities that provide APY as high as 34%.
Read More
Lucky Block – Our Recommended Crypto of 2022
New Crypto Games Platform
Featured in Forbes, Nasdaq.com, Yahoo Finance
LBLOCK Token Up 1000%+ From Presale
Listed on Pancakeswap, LBank
Free Tickets to Jackpot Prize Draws for Holders
Passive Income Rewards – Play to Earn Utility
10,000 NFTs Minted in 2022 – Now on NFTLaunchpad.com
$1 Million NFT Jackpot in May 2022
Worldwide Decentralized Competitions
Cryptoassets are a highly volatile unregulated investment product. No UK or EU investor protection.